Where to Find the Best Search Engine Optimisation Tools
SEO tools that work are listed here – and we've use them all, at various times for particular requirements. In SEO, there is no magic bullet involved, there is no immediate gratification –  just hard work and attention to detail.. Good tools help a lot! The full benefits of SEO for business webiste amendments may take months to be fully realised.
However, having access to good SEO tools makes a huge difference to the amount of time you spend investigating site status, determining problems and measuring results! If you are determined to take the DIY route, the following are all recommended as reliable and effective. (NB: we may receive a modest commission on some items.)
Work With The LATEST Information – The #1 SEO Book
Well, if you've only got time to read one book – this is the one! Aaron Wall's 300+ page SEO Book (with free lifetime updates) offers pure step-by-step knowledge that will help you understand the issues and challenges of SEO. Its also designed to get you what you're really after – significantly more traffic to your website!
This book even comes with an unconditional 90 day money back guarantee. You get the rankings and the traffic you need, or you don't pay a cent! And as the search engine game changes, you'll be up-to-date with the only current SEO resource on the planet, thanks to free lifetime updates (the book has apparently been updated over 20 times so far, with the last revision adding close to 75 new pages). Staying current with accurate SEO information is the key to winning with search engines! Click for Purchase Details.
Single-Purpose Tools
Competitive Intelligence: SEO SpyGlass
To do all of this and more, we use SEO SpyGlass and I recommend you download a free copy and try it. The trial version has limitations, but its enough to give you a feel for what it does. To me, this is an essential tool!

Do your competitor/s rankings annoy you? Do they mystify you? Would you dearly like to know HOW / WHY they rank so well? What about a tool that systematically evaluates ALL off-site ranking factors on any of your competitor's websites? Would you like to know what their Anchor Text Links contain, in all their incoming links? Be kinda nice stuff to know… right?
And at the same time, how about who links to them, from what pages, what their PR is, what's in the link page title, how many outbound links on the page and much, much more!

Link Assistant: The single most important aspect of SEO, but its surely got to be one of the most boring / frustrating tasks imaginable. I'd rather stab myself in the eye with a screwdriver than try doing it without purpose-built software application! We use the Link Assistant SEO Tool to semi-automate the process of finding and communicating with potential link partners. Being able to create, manage and monitor your links with the absolute minimum of effort and maxim efficiency is a great benefit to a busy webmaster… Download

SERPs: Like to see where your site is positioned for your primary keywords? For fast and effective SE Ranking reports, for the average webmaster looking after a small number of sites and / or clients, then Rank Tracker is a good option.It might not have the same degree of support for multiple international search engines that WebPosition4 has, but then again, it does not have the same solid price tag either! Download

Website Auditor is unique SEO software that allows you to optimize your content the Google-tested way for Google, Yahoo!-tested way for Yahoo! and so on for over 370 local and international search engines. Links; Product Website – Download Free Trial
Link Building, Rank Checking, Website Audits
1.) SEO Power Suite
I've been SEO Power Suite since it first appeared! It is good, and is one of my most-used SEO software tools!
2.)

WebCEO
WebCEO is similar but not identical to WebPosition4 in terms of features and functions. Whilst I don't use it as much, I would not want to be deprived of it either. There are times that one tools is more appropriate than another for a particular task.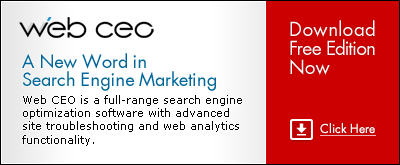 Their "Free" Edition is remarkably feature-rich and is not heavily "crippled" as many Trial Versions of software are. Overall, its a close 2nd to WebPosition4. I certainly recommend that you get the trial version and learn to make it work – and I'm pretty sure you'll like it well enough to purchase it… And I am sure you won't be sorry!
3.)

iBusinessPromoter

(

IBP

)
In my professional opinion, IBP is a good choice as a lower-cost, professional-grade multi-purpose SEO tool.
iBusinessPromoter (IBP) is a multi-award winning website promotion software tool. IBP helps you get high search engine rankings:
Get top 10 rankings on Google, Yahoo, MSN Search and others.
Get more website visitors and increase your revenue.
Outperform your competitors
4.) SEO Toolkit
This one has some excellent special-purpose tools integrated into it – and its a stable, proven product that has been in use for many years now. Download
The SEO (Search Engine Optimization) Toolkit includes everything you need to optimize and promote your web pages, to increase your web site traffic and search engine visibility.
SubmitWolf

v7.0 – Automated Submission Tool

Rank Checker

Meta Tag Editor

PPC Bid Comparison

Keyword Manager (*)

Keyword Suggestion Tool

Keyword Density Analyzer

Keyword Explorer

Reciprocal Link Checker
Ranking Advisor

Link Popularity & Saturation Monitor

Google Site Map Generator

Server Header Check

Paid Inclusion Manager

Competitive Intelligence (*)

ROI Calculator

and more…
Newsletters:
#Good SEO Newsletters – Axandra SE Industry News – Highly Recommended!
E-Books:
SEO Tools : Bottom Line Some SEO Tools are good, but some are a rip-off 🙂 We only list the ones WE use in our business!To learn how we can help your business grow, click for an seo audit. Alternatively, please view our;